Together, we've covered a lot of ground over the years ... but it's you that's always made the formula work:
Affordable Course Fees + Osher Endowment Payout + Donations = The OLLI You Love ♥
Enhance your generosity with a gift through Monterey County Gives! Your donations will receive a 12% boost! Learn More | Donate Today


---
Bernard Osher, Tirelessly Working for Good
Since his humble beginnings as a child of immigrant parents in Biddeford, Maine, Bernard Osher has become a prominent philanthropist ... (2019 article from The Jewish News here)


---
Osher National Resource Center
2017-18 Infographic
123 OLLI's, 169,772 members, and 386 cities & towns — view the Infographic for more fun facts about your OLLI network.
November 2019 OLLI Network Newsletter
The newsletter highlights exciting topics throughout the OLLI network and includes travel opportunities for Osher Institute members.


---
Catalog Archive (Click on the catalog image to view)

Spring 2019, Cover image

Barns on Cass Street

, Margaret Bruton,

Monterey Museum of Art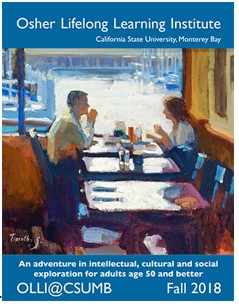 Fall 2018, Cover image Lunch in Monterey, Timothy A. Sloan,
Carmel Art Association


Spring 2018, Cover image Monastery with Purple Shadows, Carmel, Jeffrey Becom, Jeffrey Becom

Fall 2017, Cover image At Home, Joe "Aki" Ouye, website


Spring 2017, Cover image Poet's house, Maggie Taylor, Weston Gallery

Fall 2016, Cover image Door Knocker and Vine, Gary Geiger, Gallery Sur
---
OLLI Writers' Circle Podcasts (Worth a Listen!)
Circle members share their compelling backstories that powered their work via interviews with acclaimed author Elin Kelsey. Read more here. Better yet, take a listen here.

---
Our Valued Partners
OLLI@CSUMB wishes to thank our valued partners and fellow lifelong learning organizations who enrich our community and provide additional opportunities for engagement.
---
Links and Resources