Touched by Your Generosity
♥
...and kindness. We asked you to consider giving to Monterey County Gives! and the OLLI Annual Fund so we can deliver the best OLLI program today and plan for tomorrow. You did just that — we've raised $37,000 just $3,000 short of our goal for June 30. We thank you for being the love.

---
Fall 2019 — Happiness in Numbers
70 courses, 62 passionate instructors, 718 current members, 3,033 course enrollments, 424 pots of coffee brewed, 3,496 cookies nibbled (with Kimberly Wright and Ron Rice's delights clear favorites). These numbers made the OLLI team smile!

---
Osher National Resource Center
124 OLLI's, 170,000 members, and 388 cities & towns — visit the Osher National Resource Center for more fun facts about your OLLI network.
February 2020 OLLI Network Newsletter
The newsletter highlights exciting topics throughout the OLLI network and includes travel opportunities for Osher Institute members.

---
Catalog Archive (Click on the catalog image to view)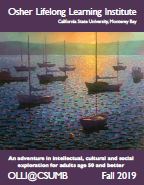 Fall 2019, Cover image Jeff Daniel Smith, Evening Shimmer, Galerie Plein Air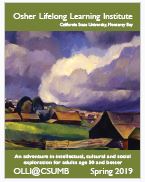 Spring 2019, Cover image

Barns on Cass Street

, Margaret Bruton,

Monterey Museum of Art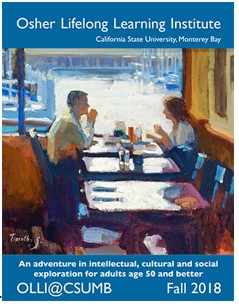 Fall 2018, Cover image Lunch in Monterey, Timothy A. Sloan,
Carmel Art Association


Spring 2018, Cover image Monastery with Purple Shadows, Carmel, Jeffrey Becom, Jeffrey Becom

Fall 2017, Cover image At Home, Joe "Aki" Ouye, website


Spring 2017, Cover image Poet's house, Maggie Taylor, Weston Gallery

Fall 2016, Cover image Door Knocker and Vine, Gary Geiger, Gallery Sur
---
OLLI Writers' Circle Podcasts (Worth a Listen!)
Circle members share their compelling backstories that powered their work via interviews with acclaimed author Elin Kelsey. Read more here. Better yet, take a listen here.

---
Our Valued Partners
OLLI@CSUMB wishes to thank our valued partners and fellow lifelong learning organizations who enrich our community and provide additional opportunities for engagement.
---
Links and Resources