OLLI@CSUMB 2017-2018 Year in Review
Ten Years — A Milestone to Celebrate! We are grateful for your engagement and for what you reflect back to us. Every catalog you share, every dollar you give, every favorite speaker you recruit, every sweet treat you bring, makes an immediate and oh, so positive difference.
Read the 2017-2018 At A Glance Report here
---
Osher Institute National Network

OLLI@CSUMB is one of 123 Osher Lifelong Learning Institutes nationwide. The May issue of the Osher Institute Network Newsletter highlights a variety of exciting topics throughout the OLLI network. Features include successfull collaborations between OLLIs, unique learning opportunities and exciting travel opportunities for Osher Institute members.
Read the May 2019 Newsletter for all of the details.
---
OLLI In the News: Hiking with Patrice Vecchione...


---
OLLI Catalogs - Click on image to view an online version
Fall 2018, Cover image Lunch in Monterey, Timothy A. Sloan, Carmel Art Association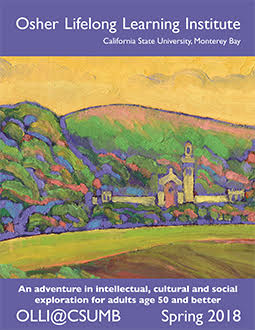 Spring 2018, Cover image Monastery with Purple Shadows, Carmel by Jeffrey Becom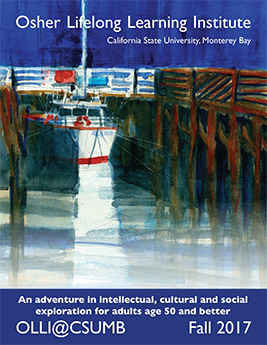 Fall 2017, Cover image At Home by Joe "Aki" Ouye, website
Spring 2017, Cover image Poet's house by Maggie Taylor, Weston Gallery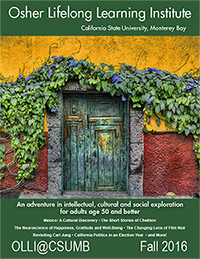 Fall 2016, Cover Image: Door Knocker and Vine, Gary Geiger, Gallery Sur in Carmel
---

Over the Years...
...we've had the great honor of working with the area's most talented artists. We are so thankful to each and every one of them for allowing us to share their talent, vision and passion with the OLLI@CSUMB community.
---
OLLI Writers' Circle Podcast Series - Take a Listen!
We went back to the vault for this special series conducted by the OLLI Writers' Circle. Circle members shared their compelling backstories that powered their work via interviews with acclaimed author and facilitator Elin Kelsey. We think this series is more than worth a
listen
. Read more
here
.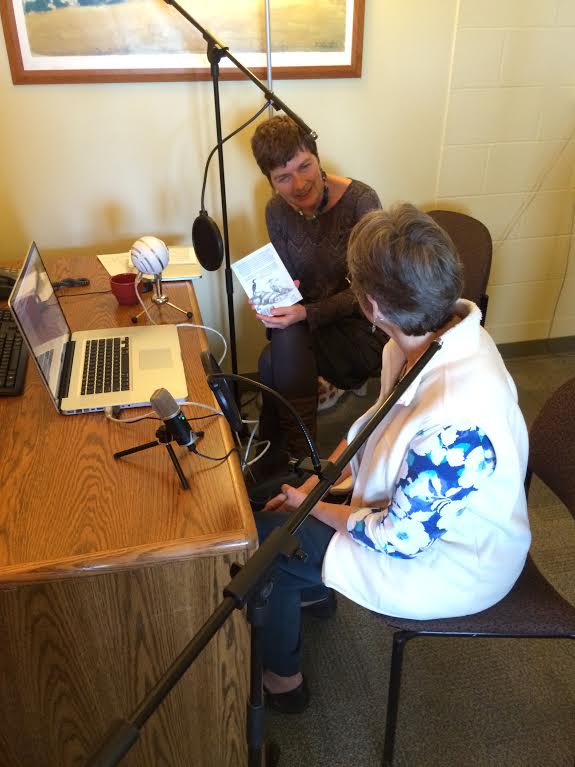 ---
OLLI Valued Partners

OLLI@CSUMB wishes to thank our valued partners and fellow lifelong learning organizations who enrich our community and provide additional opportunities for engagement.
---
OLLI Press
Article in OFF 68 by Tom Leyde:

Article in Monterey County Weekly by Walter Ryce:
---
---
Links and Resources