Thinking of You, April 2
We've received so many touching notes — requests for online courses, too.
Many of you have asked if the April and May courses could be transitioned to Zoom. While we feel a sense of urgency to produce online content, we strive to remain thoughtful in the way we move forward.
We promise you this: We'll continue to work with our April and May instructors on online possibilities. Seeds are beginning to sprout — Patrice Vecchione will offer her "Introduction to Poetry" course via Zoom.
Likely we'll see a crop of new instructors and courses that translate beautifully to the Zoom online world. Dr. Chris Hasegawa is dreaming up a few gems, a "baseball-themed" course being one of them.
Updates will be provided as things unfold.
Our best ideas have always come from you — in the classroom and in conversation over cookies and coffee. If you have ideas to share that light you up — please feel free to text or call: Michele (831) 521-5214
You can follow our progress below (updated daily)♥.
---
Courses Transitioned to Zoom (or alternative)
Noticing Nature, Slow Birding — Apr. 3; 10:00 - 11:00am
Flash: A Short Short Sory — Apr. 8, 1:00 - 3:00pm
Write the Morning Away — Apr. 11; 9:30 - 10:30am; Apr. 25; 9:30am - 12:30pm
Plein Air Writing — Apr. 14; May 12, 9:30am - noon
Intro to Poetry — May 4, 11, 18; 1:00 - 3:00pm
---
Courses Rescheduled
CA Politics with Fred Keeley — May 30, 10am
---
New Offerings
OLLI at Home: Malcolm Weintraub Films of Wes Anderson — Apr. 9, 2pm | RSVP
---
Coming Soon
Maintaining Brain Health During a Pandemic — Dr. Chris Hasegawa (an online course)
---
OLLI Playlists and Tutorials You Might Enjoy
OLLI Glee Club — "Shelter at Home" playlists by online DJ Chris Hasegawa
Ukulele II — Chris Hasegawa and Joe Mancuso offer fun tutorials:
---
OLLI Courses and Instructors — Recorded Presentations
Debunking Climate Change with Mike Clancy (video 1:56 min) | here
Jo Mora Presentation by Peter Hiller (video 48:56 min) | here
Virtual Scuba Dives with Dr. James Lindholm (series of videos) | here
---
Additional News and Resources — Below
---

Touched by Your Generosity♥
...and kindness. We asked you to consider giving to Monterey County Gives! and the OLLI Annual Fund so we can deliver the best OLLI program today and plan for tomorrow. You did just that — we've raised $37,000 just $3,000 short of our goal for June 30. We thank you for being the love.
---
Osher National Resource Center
124 OLLI's, 170,000 members, and 388 cities & towns — visit the Osher National Resource Center for more fun facts about your OLLI network.
February 2020 OLLI Network Newsletter
The newsletter highlights exciting topics throughout the OLLI network and includes travel opportunities for Osher Institute members.

---
Catalog Archive (Click on the catalog image to view)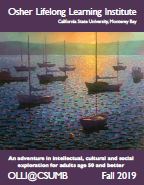 Fall 2019, Cover image Jeff Daniel Smith, Evening Shimmer, Galerie Plein Air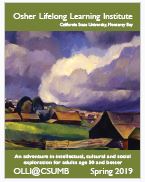 Spring 2019, Cover image

Barns on Cass Street

, Margaret Bruton,

Monterey Museum of Art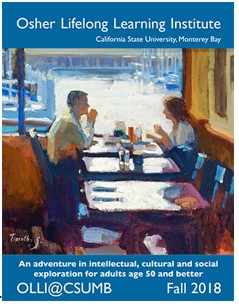 Fall 2018, Cover image Lunch in Monterey, Timothy A. Sloan,
Carmel Art Association


Spring 2018, Cover image Monastery with Purple Shadows, Carmel, Jeffrey Becom, Jeffrey Becom

Fall 2017, Cover image At Home, Joe "Aki" Ouye, website


Spring 2017, Cover image Poet's house, Maggie Taylor, Weston Gallery

Fall 2016, Cover image Door Knocker and Vine, Gary Geiger, Gallery Sur
---
OLLI Writers' Circle Podcasts (Worth a Listen!)
Circle members share their compelling backstories that powered their work via interviews with acclaimed author Elin Kelsey. Read more here. Better yet, take a listen here.

---
Our Valued Partners
OLLI@CSUMB wishes to thank our valued partners and fellow lifelong learning organizations who enrich our community and provide additional opportunities for engagement.
---
Links and Resources